CUSTOM CHALLENGE COIN STYLES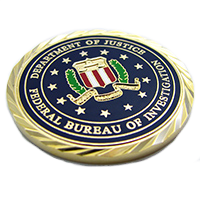 HARD ENAMEL COINS
Our cloisonne hard enamel coins are jewelry quality coins. These coins are struck from brass or copper and then plated with your choice of plating. All of the colors are then filled with a special enamel or glass, and then baked until the enamel or glass has melted and formed into the recessed areas of the coin perfectly.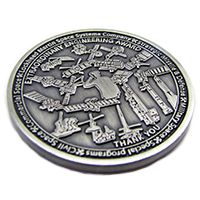 ANTIQUE / ALL METAL COINS
The antique process on a coin makes for a very classic look. They are struck from copper or iron and then plated with your choice of antiqued gold, bronze, silver, or copper. The antique finish is applied to the metal and then lightly buffed, leaving an aged, patina appearance on a newly made coin. Enamel colors can also be added to these coins, as well as an epoxy dome.
MILLIONS OF COINS MADE • THE LOWEST PRICES • FREE SETUP • FREE MOLD
These custom challenge coin styles are just a few examples of our previous work. Quality Challenge Coins has been trusted for over 20 years to create custom challenge coins in every finish, every metal, and every style you can think of. Let us help you design a custom challenge coin that is one of a kind.
Fill out the form below to get a free quote. We've searched the internet and compared our prices to our competitors to make sure you get the lowest price and the highest quality. One of our skilled team members will respond with a digital proof and pricing. Whether you have a complete design or just a rough idea, our artists will help you design and finalize your products so that they look exactly the way you want them to.