Custom Challenge Coins For The Navy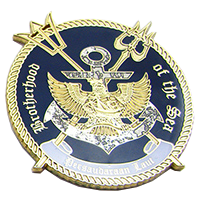 Navy challenge coins are a perfect way to honor the courageous men and women that serve in the United States Navy. These US Navy challenge coins are a small, yet highly effective way to show  support for these soldiers that play a key role in protecting our freedom across the entire globe.  US Navy coins are available in a diverse range of styles, as Custom Challenge Coins has been crafting top-quality products since 2003.
Here are a few of the most popular reasons why US Navy challenge coins are such a favorite item at Quality Challenge Coins.
High-Quality Product
Navy coins are crafted with the latest technology and the highest quality of care to ensure that you are completely happy with the final design. Navy challenge coins can be customized with a unique insignia, and you can choose from an unlimited range of color options. Many different edge styles are also available. Whether you prefer a standard edge, rope edge, bevel diamond cut, or a  variety of other options for your US Navy coins. These challenge coins are designed to last a lifetime, as Quality Challenge Coins guarantees that you will be 100% satisfied with the final  product.
Excellent Way to Support Military
A Navy Seal challenge coin is a fantastic way to show support for the military. These US Navy challenge coins are available in a wide range of sizes. You can also choose different designs for each side of the custom challenge coin, whether you prefer to use multiple color schemes or a die struck coin. These US Navy coins will always be a long-lasting keepsake that will always hold sentimental value, especially if you have family and friends serving in the military.
Perfect for Award Ceremonies
Navy chief coins are a great way to award service members that attain a higher ranking due to many  hours of hard work and dedication. These US Navy challenge coins will always hold a special meaning  to each recipient and bring back many lifelong memories. You can also choose from a variety of presentation options at Quality Challenge Coins, whether you prefer an acrylic case, velvet coin box, plastic stand, or a coin capsule. A Navy Seal challenge coin can also be customized in a  variety of ways to create a truly unique coin for each crew member.
Quality Challenge Coins is one of the leading companies to specialize in crafting top-quality US Navy challenge coins. Each coin is highly customizable, as we offer free artwork design and revisions with each order. Our professional artists are always happy to answer any questions, as  we strive to provide the best customer support available.
All our coins and medals come with a 100% satisfaction and lowest price guarantee. For more information or to get a free quote contact Quality Challenge Coins today at 1-800-952-0305 or send complete our online quote form to learn more about Navy challenge coins!