Make Firefighter Challenge Coins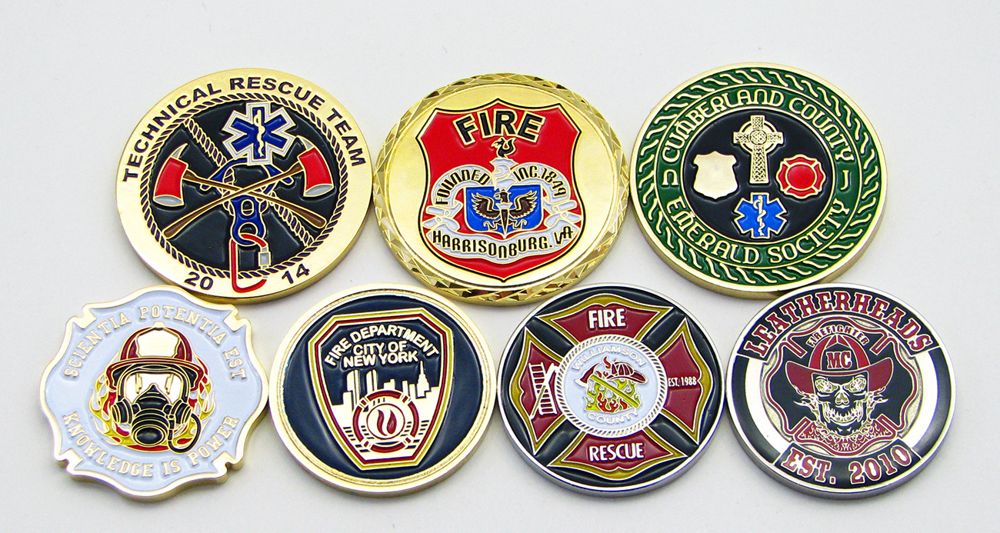 If you know a firefighter, chances are they're a hometown hero. In small and significant ways, the men and women that make up your local fire department demonstrate their strength, desire to succeed, and commitment to serving others in their communities. Honor your local heroes with firefighter challenge coins.
Challenge Coins Are Versatile Through and Through
Paying tribute to these exemplary human beings just seems natural. That's why it shouldn't come as a surprise that custom challenge coins, which are rich in symbolic nature, are handed out frequently to firefighters. Tokens of appreciation like these help boost morale, commend years of service, and honor those that lost their lives while serving the community.
Challenge Coins Are Honorable
Because they are similar in weight and appearance to a medal, they are highly regarded by the men and women that receive them.  In fact, you could say that they are one of the most honorable awards a firefighter can receive.  When presented to the individual in a velvet box or acrylic capsule, these items take on a whole new meaning.  It isn't unusual to see incredible firefighters nationwide carrying and displaying their own custom challenge coins.
Features of Firefighter Challenge Coins
There are a number of ways that a fire department can customize their challenge coins. Here are just a few to think about:
Size – Sometimes a design calls for a large coin. Over sized challenge coins are very noticeable because they are bold and different.
Shape – A cut out challenge coin gives designs depth and dimension. This is yet one more feature that makes your product even more attractive.
Colors – A myriad of colors can accentuate certain areas of your coin which helps brings your designs to life.
Style – There are several different styles of challenge coins to choose from including offset printed, silkscreened, and dual plated.
Single or Double Sided – Your challenge coin can feature images and text on one or both sides.
Custom Edges – Some edge options include Flat, Rope, Spur, Oblique, Flat Weave/Bevel, and Cross Cut.
Glow-in-the-Dark Enamel – A truly unique way to set your challenge coins apart, glow-in-the dark enamel makes a great first impression.
Sequential Numbering – Limited edition coins are highly collectible. If you are only creating a limited number of these items, sequential numbering is for you.
They can also choose what images and text to feature on their coins.  This helps make an outstanding design that every firefighter can appreciate. Get started today by requesting a free quote or give us a call at 1-800-952-0305. You'll speak with a real person here in our Colorado office every time. There is no obligation to buy so see what your custom firefighter coins could looks like today!