Make Military Challenge Coins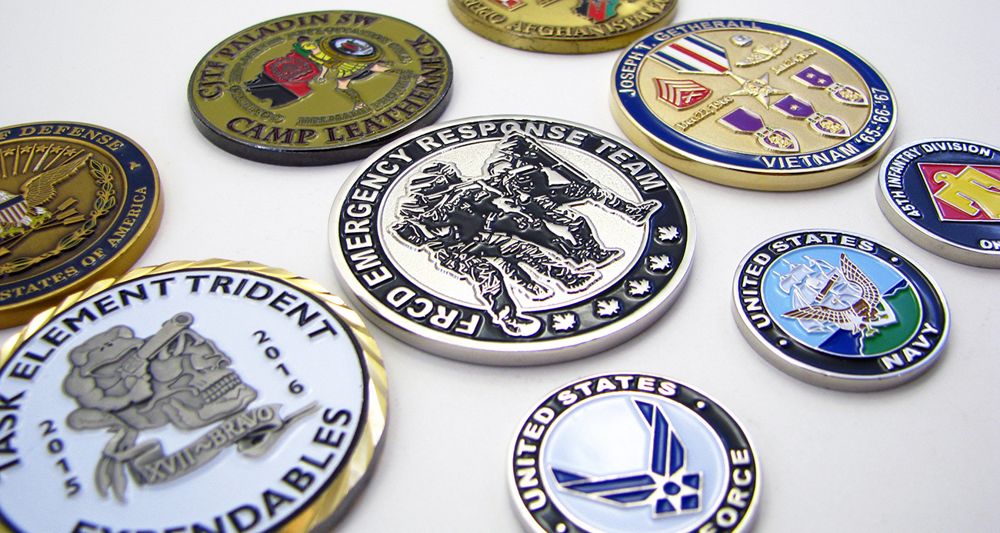 Military challenge coins are a timeless keepsake to acknowledge ones service. You can make custom military challenge coins by sending us your idea or artwork. These custom coins should be as special as the person who is receiving it. We have different metal options as well as finish options. It all starts with a rough sketch or description of your military coin. You don't need to be an artist, that's our job. Quality Challenge Coins has been delivering the best challenge coins for over 20 years. You'll work closely with one of our artists here in Colorado. Your custom military coins will be designed right here in the USA. You'll have the chance to make revisions of the artwork before it's sent to our production team. We can even send you samples of coins we've made so you can see and feel the quality for yourself.
History of Military Challenge Coins
During World War I, American volunteers from all parts of the country filled the newly formed flying squadrons. Some were wealthy scions attending colleges such as Yale and Harvard who quit in midterm to join the war. In one squadron, a wealthy lieutenant ordered medallions struck in solid bronze and presented them to his unit. One young pilot placed the medallion in a small leather pouch that he wore around his neck. Back at his squadron, it became a tradition to ensure that all members carried their medallions or custom made coins at all times. This was accomplished through challenge in the following manner which a challenger would ask to see the medallion. If the challenger could not provide the personalized coins or medallions, they are required to buy a drink of choice for the member who challenged them. If the challenged member is able to provide a medallion, then the challenging member is required to pay for the drink. So that is the story behind challenge coin history and traditions.
Go with the best in the business, go with Quality Challenge Coins. Get started by giving us a call or filling out the free quote form on our website to get pricing info. You won't be disappointed. Upload your artwork or email it to info@qualitychallengecoins.com. There is no obligation to buy, so see what your custom challenge coins could look like today!