Custom Challenge Coin Display Options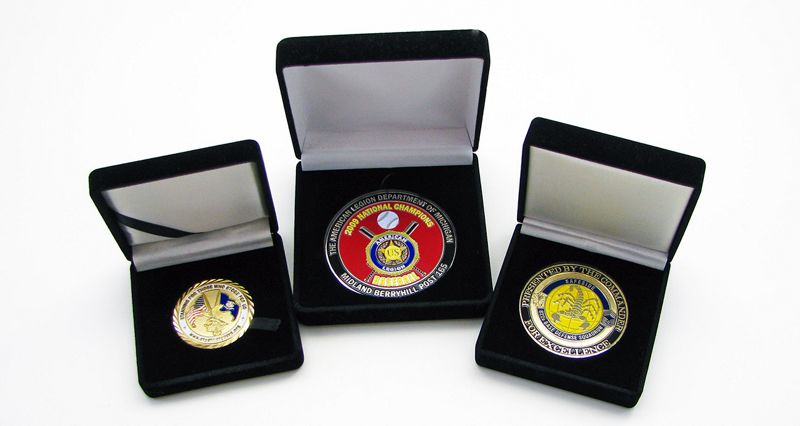 Challenge coin collectors around the world love to display their collections for others to see. That's why we offer presentation options that fit our customer's needs. In addition to offering protection for your challenge coins, these items are attractive in and of themselves.
Here are the different options that we offer our customers when they order custom coins from us:
Plastic Sleeves – This is one of our most economic options because they are complimentary.  In addition to being lightweight and easy to store, the envelopes also protect against dust as well as normal wear and tear.
Plastic Coin Capsules  – Coin capsules form a barrier between your item and dust and dirt. The fit-to-shape design of this vessel makes transporting your collectibles effortless.
Velvet Bags – Soft, beautiful velvet bags work well for presentation ceremonies as well as for storage of custom challenge coins. Easy-to-stash away and pull out when needed, these items do not require a lot of space or effort to maintain.
Acrylic Coin Cases – Hinge lidded acrylic coin cases make it possible to keep your treasured keepsakes safe and secure. Their compact design make them easy to store and display.
Velvet Coin Boxes – Elegant and functional, velvet coin boxes are frequently used with military challenge official presentation ceremonies. This packaging option is perfect for any occasion where appearance is the central focus. It is great for protecting coins from dust and damage.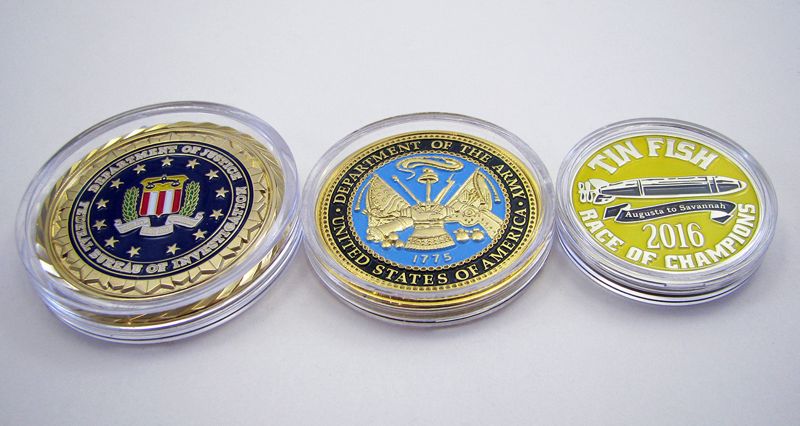 The type of presentation option that you choose will largely depend on the nature of your awards ceremony or special event. We can make recommendations based on the information we receive from you. Whatever option that you choose, we're sure that you'll be pleased with your new velvet coin boxes and acrylic coin cases.
To get started fill out our free quote form or email us or call 1-800-952-0305 toll-free.  Once we've heard your design ideas, we can suggest a presentation option that fits your needs and budget.  Contact us today for a free quote.  We look forward to working with you!