Custom Challenge Coins For Politicians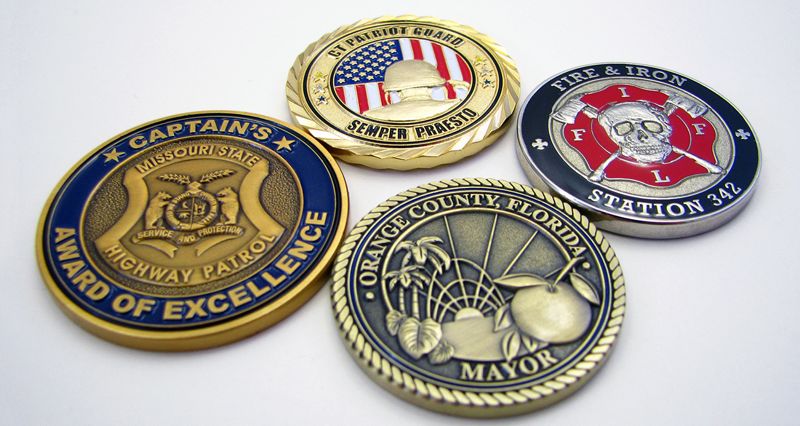 Politicians worldwide look for new and inventive ways to stand out against their competition. Whether they're vying for a position on the local school board or running against a tough opponent for the Presidency, one thing is certain. There is no better way to remain on the minds of voters than with challenge coins.
Double sided and customized to your specifications, coins are quickly replacing other types of campaign materials like buttons and stickers. The reason behind this is the fact that challenge coins are made from metal, therefore they're longer lasting than other types of promotional products. It isn't unusual to own the same challenge coin for years. That's what makes them so collectible. Famous slogans like "I Like Ike" appeal to a whole new generation of voters when they are included on a custom challenge coin.
Here are a few of the most noticeable attributes of challenge coins:
They're personal. They can be created in a way that identifies the candidate, position he or she is running for, and the cause or political party that they support.
They're rich in detail. From their edges down to the image or text included in the coin's design, there is no disputing how visually appealing and well-crafted these items are.They have a distinct look and feel. Unlike other promotional items, challenge coins resemble real currency because they are stamped from sheets of metal. They have raised and recessed areas and a weightiness that alludes to be something very valuable.
They're double sided which allows for more text and images. Unlike buttons, challenge coins have two sides which gives candidates more space to market themselves. One side can feature an image or a photograph while the other side may have identifying information about the politician which helps voters to remember them.
They're portable and easy to display or store. Because they're small and don't take up a lot of space, they are easy to travel with. Politicians and their staff can pack them in a box or bag and even fly with them. Presentation options like velvet boxes and plastic coin capsules make it easy to display and store challenge coins.
Governors, Senators, Members of Congress as well as the Presidential Cabinet itself could benefit from the extra attention gained by creating and using custom challenge coins on the campaign trail.  The incredible pieces of memorabilia are the perfect item to hand out to voters, staff, and volunteers.  They're great for starting a conversation, making a name for the candidate, and getting a message across. Fill out our free quote form or send us an email with your design. Our trained artists will take your idea and turn it into digital artwork for your approval. There is no obligation to buy so contact us and see what your custom challenge coins could look like!